PRI
Media Engagement
We focus on enhancing media presence of KFUPM by promoting major achievements and activities. Our Media team brings content in line to build positive image of KFUPM by promoting its scientific and research status and its role in society. The Unit publicizes the efforts of the University and educating the community about the quality of its educational and research output.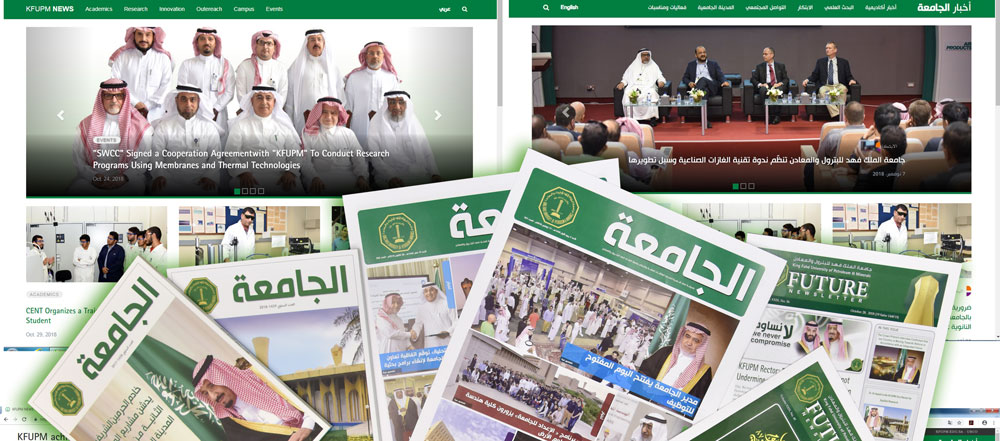 The Unit is committed to the professional and outstanding work and adhering to media values based on credibility, balance, honesty and responsibility in order to achieve a more effective and widespread presence. PRI provides media advice to University officials and responds to all types of media enquiries.
Following are the core services of Media Unit:
Media
Inviting media professionals to attend and cover events organized by KFUPM
Preparing press releases about KFUPM major events and academic and research achievements
Inviting media professionals to visit KFUPM, organizing meetings with officials for building strong relations with University
Preparing official statements and speeches on various occasions in coordination with the relevant authorities
Preparing a daily press file containing news published about KFUPM and higher education
Photography coverage of events and managing Photography projects for producing thematic images to be used for publications, media, website, brochures, digital screens etc.
Responding to Media in case of clarification or correction is required to protect KFUPM image in coordination with the relevant authorities.
Publishing
Publishes a fortnightly newspaper (Al-Jamaa) in Arabic that covers the most important news, events and achievements of the University. This newspaper also highlights the individual members for their commendable achievements, initiatives, educational and research projects and community service
Issue an Annual magazine [Al-Jamaa], published on the occasion of the Graduation ceremony, covering most important news and events occurred during the academic year
Publishes an English bulletin (FUTURE) every two months that contains news and activities in a more concise manner.